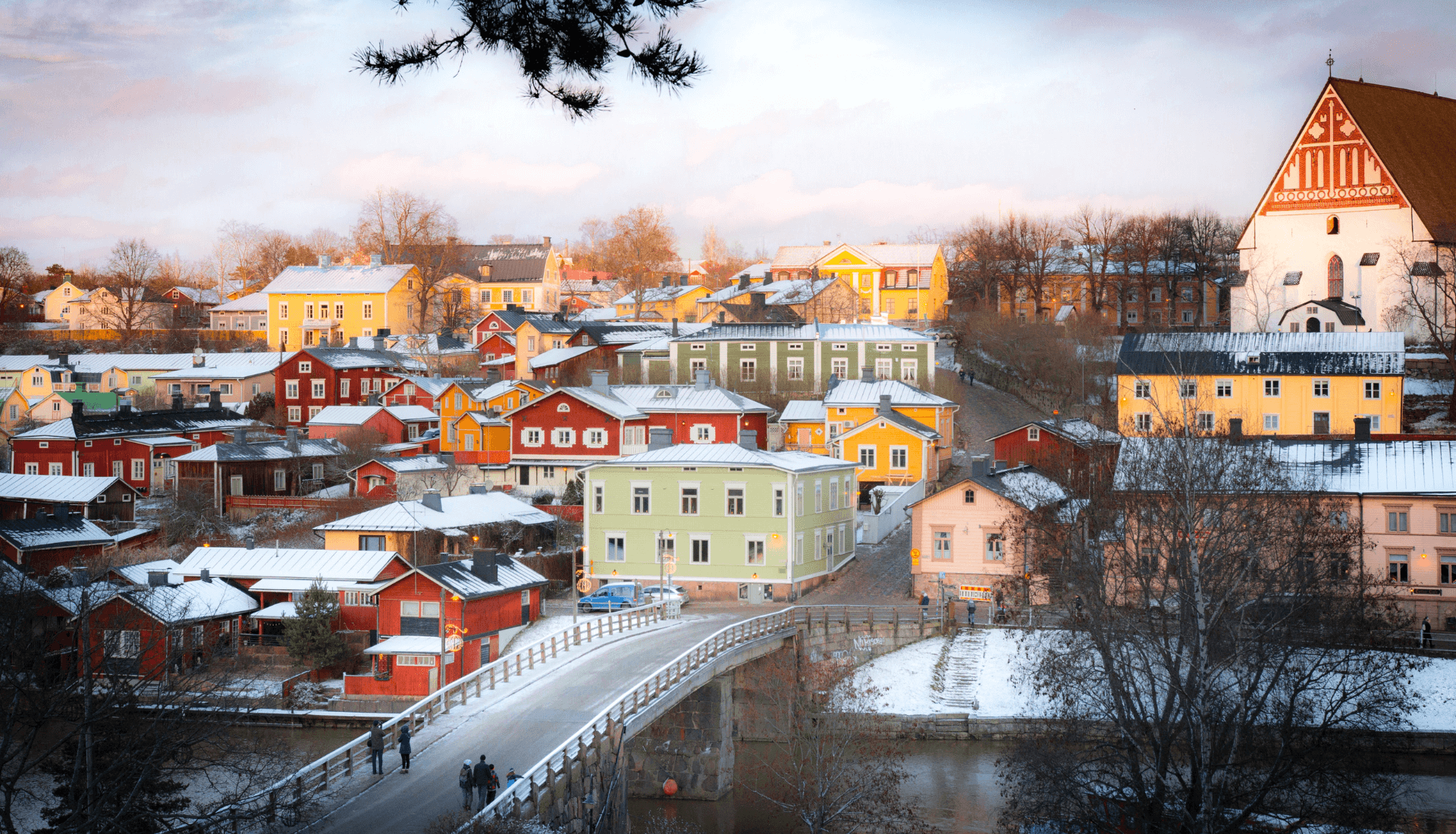 Explore The World's Happiest Country: Finland
Let's Explore the Top 10 Tourist Destinations in Finland – the happiest country in the world.
Finland is a beautiful Nordic country in northern Europe and is often referred to as "the happiest country in the world". With its stunning landscapes, vibrant culture, and friendly people, Finland is a place of great joy and beauty.
Finland is known for its stunning natural beauty, lush forests, crystal-clear lakes, and snow-capped mountains. This country has over 187,000 lakes and is the most heavily forested country in Europe. Finland also has some of the world's longest uninterrupted forests, making it a great destination for nature lovers.
Finland is also known for its vibrant culture and friendly people, and Finns are known for their laid-back attitude and welcoming demeanor. There are a variety of activities to do in Finland, from exploring its ancient cities and picturesque villages to enjoying the local cuisine and participating in various cultural activities.
Finland is truly a paradise for any traveler. From its stunning natural beauty to its vibrant culture and friendly people, Finland is an amazing destination that promises a wonderful holiday experience.
Top 10 Tourist Destinations in Finland
While planning to tour this tranquil region, ensure that you know a few spots before better understanding the area.
Helsinki cathedral, located in Senate Square, is one of the most attractive tourist places in the country. It is not the typical church but represents a distinct neoclassical architecture. Helsinki cathedral hosts various academic and national events. The Cathedral's varied statues of the apostle's guard and exhibitions amazed history lovers. The four small domes add an aesthetic touch to the church. Many small yet beautifully designed structures surround the Helsinki Cathedral.
Things to do: Enjoy the city and the Nuuksio Reindeer park tour.
Northern lights, a wonderful natural occurrence, are one of Finland's most magnificent sights. Tourists can see the lights on a clear night between September to March at specially designed viewing places in Finland. The ideal places to view them are around or north of the Arctic Circle. The Northern Lights, also known as the Aurora Borealis, are a fantastic phenomenon that puts visitors in a daze.
Things to do: Enjoy the Aurora Borealis from specially designed shelters like glass huts and luxury apartments.
Santa Claus village, located in Rovaniemi, is a popular tourist attraction in Finland. A real-life Santa receive letters and greetings from his admirers. It is an excellent location for carriage rides drawn by Santa's reindeer. Here you can find ice cafes, husky and reindeer cart rides, igloo hotels, and safaris.
Things to do: Meet Mr and Mrs Santa Claus, visit Elf School, handicrafts, and souvenir stores to buy small trinkets and click photos with Father Christmas.
Lake Saimaa is the largest lake in Finland and the fourth-biggest lake in Europe. Lake Saimaa is often known as the "lake of a thousand islands" because of tens of thousands of lakes, rivers, wetlands, and ponds. This lake is located in southern Finland, right on the Russian border. The lake's steep shoreline and most islands are nearly fully covered with coniferous forest, with some birch woodland to the north.
Things to do: Have fun in Lake Saimaa, Visit Astuvansalmi to see the rock art, climb Neitvuori hill, visit the Olavinlinna Castle in Savonlinna, canoe and paddle on Lake Saimaa and much more.
Turku castle, along with the Turku Cathedral, is a historical monument, and the massive granite walls contain interesting historical moments. Originally, this castle was built as a military outpost that changed ownership several times during the middle ages. You will need at least half to enjoy this incredible infrastructure since it has twisting hallways, antique furnishings, exhibitions, and open gardens.
Things to do: Wandering through Turku Castle's twisting pathways and labyrinth-like tunnels transport you takes in time.
Located in Arctic Circle, Levi is one of Finland's most popular tourist places. The world-class slopes are almost vacant most of the year, there are no queues for the chair lifts, and the region generates frequent snowfall. Levi offers modern and clean facilities to visitors. At Levi Resort, there are a variety of restaurants and nightlife facilities for skiers.
Things to do: Tourists visit Levi for amazing skiing. Aside from skiing, you can enjoy other ice activities like snowmobiling, husky and reindeer safaris, and snowshoeing. Don't miss exploring Levin Iglut Resort, famed for its glass-roofed igloos.
The snow castle of Kemi is a popular destination among tourists because of its amazing ice and snow sculptures. Magnificent snow creations within the Castle's freezing snow walls make your stake comfortable and warm. The snow castle opens from January to April, during the coldest months.
Things to do: Float in the ice with a special suit and go on a snowmobile adventure across the unbroken ice away from the Sampo. You can also see the King of Finland's never-worn silver and pearl crown at Kemis's gemstone gallery.
Tampere, situated between two gorgeous lakes, Nasijarvi and Pyhajarvi, is the third-largest tower in Finland. Tampere is famous for its vivid artwork and exciting events during the winter season. Tampere is still a small city that seems more like a group of communities than a giant metropolis.
Things to do: Enjoy the perfect sauna at Tullin Sauna, meet your inner child at The Epic Moomin Museum, explore Finlayson, Finland's most popular home textile manufacturer, and experience Lappish peace and design at The Lapland hotel Tampere.
Savonlinna is a fantastic tourist spot recommended during your upcoming vacation to Finland. The area's main feature is certainly Olavinlinna, or St. Olaf's Castle, which was constructed in the 15th century and is located in lake Saimaa on a chain of islands.
Things to do: Immerse at Olavinlinna Castle, enjoy a steamboat Cruise, stroll around Savonlinna old own and eat Lörsty, a local delicacy. Visit the World's largest wooden Church, and hike or canoe through Linnansaari National Park.
Nuuksio National park is among the 40 national parks in Finland and the most popular tourist destination. Nuuksio National Park is abundant in species and stretches across a broad region with several camping and skiing options. It is surrounded by the natural beauty of Finland and provides breathtaking vistas of lush foliage.
Things to do: Enjoy hiking, bicycling and horseback riding.
5 Best Places to Stay in Finland
Here are the top hotels to stay in Finland during your trip:
The Arctic TreeHouse hotel is a resort of rectangular cabins with huge north-facing windows built on a wooded slope on the Arctic Circle. This beautifully designed hotel is blended with luxurious accommodations. Enjoy the beautiful view of the Northern lights from the hotel window.
The Nellim Wilderness hotel is situated deep among a pine forest, giving it a frontier feel. Nellim Wilderness hotel is decorated in a traditional Finnish Lapland manner, with plenty of pine wood and plush animals. Due to the absence of light pollution, this is an incredible place for spotting the Northern Lights.
Korpikartano, which is up to its neck in the snow in winter and more than 250 kilometres north of the Arctic Circle, offers a sense of solitary calm that makes the trip worthwhile. There is a lovely log house by the lakeshore where aurora watchers and midnight sun-bathers may take shelter.
Kakslauttanen Arctic Resort
Kakslauttanen has evolved into two distinct East and West 'Villages' of cosy log cabin cottages, glass and snow igloos, hybrid log-and-glass igloos, and restaurants. The Northern Lights are a top focus, and the resort is located directly in the path of the aurora borealis.
Arctic SnowHotel & Glass Igloos
The Arctic SnowHotel, situated near Lake Lehtojärvi, just above the Arctic Circle and 16 miles from Rovaniemi, offers remoteness to aurora lovers. Snowshoe adventures and snowmobile safaris are among the activities available. The SnowSauna and outside whirlpool hot tubs are unexpectedly refreshing, and an aurora notification service is provided for individuals who want to be alerted in case of an aurora.
In addition to its urban attractions, Finland is home to several beautiful natural areas, including the archipelago of the Helsinki region, the national parks of Lapland, and the lakes region in the eastern part of the country.
No matter what time of year you visit, you'll find plenty of things to do in Finland. From exploring the country's vibrant capital city, Helsinki, to immersing yourself in the peaceful countryside, Finland is a destination that will leave a lasting impression.