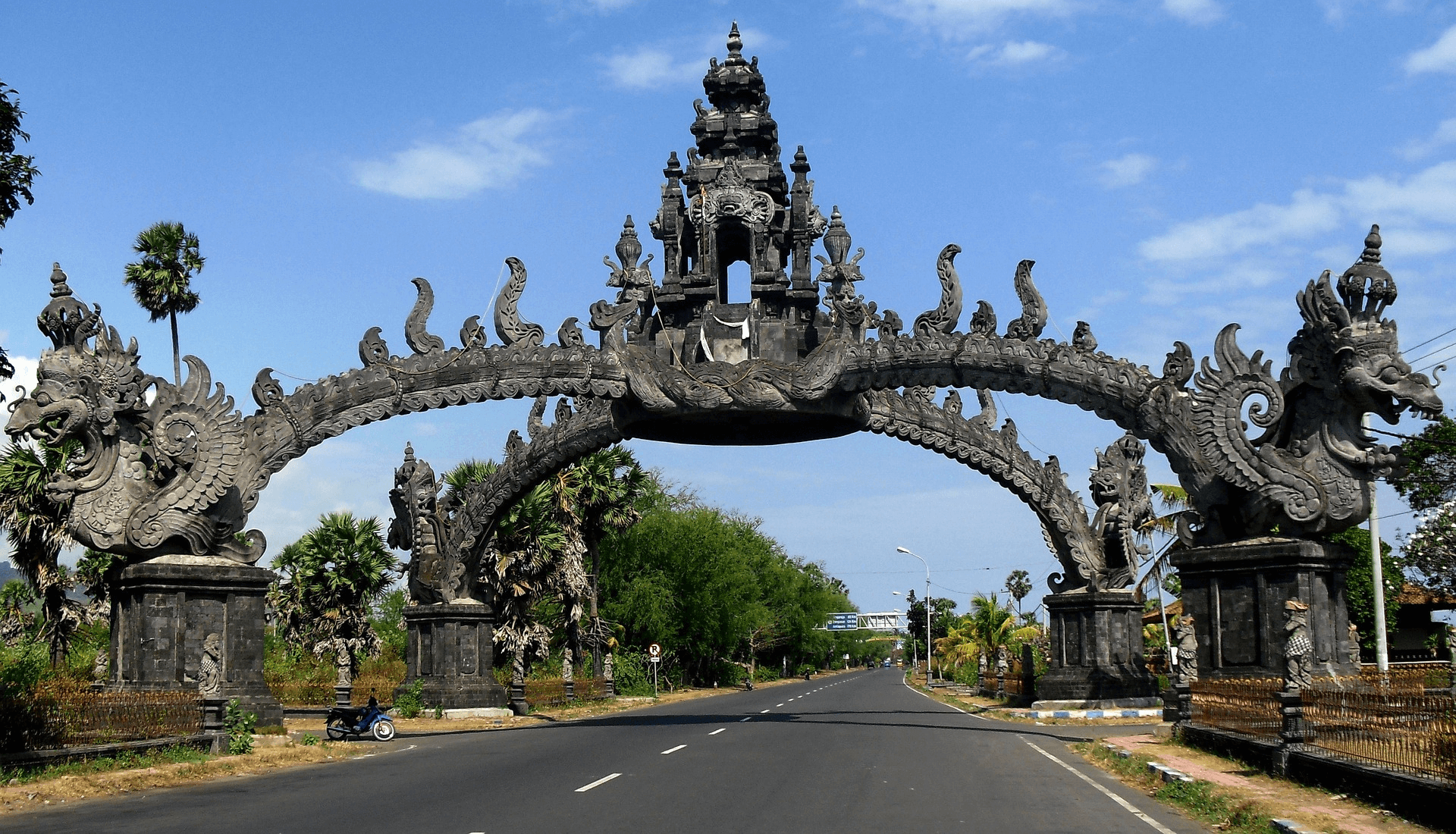 Explore The Unique Travel Experience: Indonesia
Let's Discover the Top 10 Tourist destinations in Indonesia,
Indonesia is a country of incredible natural beauty and culture. From the lush tropical rainforests of Bali and Sumatra to the bustling cities of Jakarta and Surabaya, Indonesia offers a unique travel experience you won't find anywhere else. 
You can explore the ancient temples, take part in unique cultural experiences, and explore the stunning beaches and coral reefs. 
Indonesia's cuisine is one of the most varied and delicious in the world. From traditional Indonesian dishes such as Nasi Goreng to the spicy curries and tangy seafood of the islands, there is something to delight everyone's taste buds. 
The natural beauty of Indonesia is something that must be seen to be believed. From the majestic volcanoes of Java to the incredible marine life of Komodo Island, Indonesia offers a wealth of opportunities for exploration. Whether you are looking for a relaxing beach holiday or an adventure-filled trekking expedition, there is something for everyone in Indonesia.
Indonesia is home to one of the most vibrant cultures in the world. With its rich art, music, and literature, Indonesia is a great place to explore and learn about the world. 
With its unique culture and stunning landscapes, Indonesia is a destination that offers something for everyone. Indonesia has it all, whether you are looking for a relaxing getaway or an adventure-packed excursion.
Top 10 Tourist Destinations in Indonesia
Look at the top spots to visit in Indonesia on your upcoming vacation!
Bali, famed for its beautiful landscape, culture, and kind people, is home to some of the most beautiful beaches in the world, including Kuta Beach and Sanur Beach. Bali is also famous for its distinctive rice terraces, magnificent temples, and active nightlife. It is an excellent choice for anyone seeking a tropical paradise with various activities. Surfing, paddle-boarding, snorkelling, jungle excursions, and cultural tours are just a few water sports available. Bali has something for everyone, whether you're looking for a romantic trip, a family vacation, or an adventure-filled vacation.
Things to do: Trekking, jetpacking, caving, wildlife safari, and nightlife
The capital of Indonesia and the country's largest city, Jakarta is Indonesia's economic, political and cultural centre and a popular tourist destination. The city is home to many cultural attractions, including its colonial heritage, which can be seen in its old town and various museums. Jakarta also has a thriving nightlife, with several clubs, pubs, and restaurants. Cycling, fishing, and sailing are among the many outdoor activities available in Jakarta. The city also holds several festivals and events, making it a perfect location for those looking for a one-of-a-kind experience.
Things to do: Shopping in Menteng, seeing Istana Merdeka and Monas Tower, day trips to adjacent islands, and enjoying the nightlife.
Lombok is part of the Lesser Sunda Islands and is famous for its stunning sceneries, white sand beaches, and crystal blue seas. It is located east of Bali and west of Sumbawa. Lombok is an adventurer's paradise, offering several chances for trekking, diving, and other outdoor activities. The island also has some of the world's most stunning beaches, including Kuta Beach, Mawun Beach, and Tanjung Aan Beach. Lombok is a fantastic location for anyone wishing to immerse themselves in a distinct and diverse culture while enjoying the island's natural beauty. Lombok will likely provide tourists with amazing experiences, from its magnificent beaches to its active volcano and lush rainforest.
Things to do: Hiking to Mt. Rinjani, scuba diving, snorkelling, a rejuvenating spa, and golf are all available.
Yogyakarta, or Yogya, is located on the Indonesian island of Java and is widely renowned for its rich cultural legacy and magnificent natural environment. Yogyakarta is home to some of the greatest temples in Indonesia, including Borobudur and Prambanan. Yogyakarta, with its colourful markets, street cuisine, and traditional arts, is also an excellent spot to experience the conventional Javanese way of life. Yogyakarta is a great destination for those looking for a cultural experience and a place to relax and unwind. With its unique culture, beautiful scenery and great outdoor activities, Yogyakarta will surely provide an unforgettable experience for all travellers.
Things to do: River rafting, trekking and cycling in the nearby Merapi National Park, photography, and witnessing the sunset at a UNESCO World Heritage site.
Komodo National Park, a UNESCO World Heritage site and home to the Komodo dragon (the world's biggest living lizard), is a popular tourist attraction. Visitors may explore the park's rugged terrain, go diving, and visit the park's many islands. The park is also home to various fauna, including over 1,000 different kinds of fish and 260 different types of coral. Visitors may also participate in guided tours of the park, which teach them about the area's history and culture. Komodo National Park is a terrific area for an excellent trip, with its magnificent terrain, plentiful animals, and impressive views.
Things to do: Aside from viewing endangered Komodo dragons, the Komodo National Park offers a variety of activities, including kayaking, diving, walking, and guided island visit.
Indonesia is located on the Fire ring, which contains some of the world's most active volcanoes. Many of the country's volcanoes, like Mount Merapi, are known for their explosive eruptions and stunning but terrifying beauty. Mount Bromo is one of the active volcanoes. The area surrounding Mount Bromo is famous for its breathtaking sights, particularly the beautiful sunrise over the peak and the breathtaking volcanic scenery. Bromo's top was torn off during an eruption, and white smoke can still be seen pouring from the mountain. Mount Bromo is a popular tourist destination with diverse activities and attractions that satisfy all visitors.
Things to do: Hiking to the volcano's crater rim, horseback riding, and camping.  Visitors may also discover the local culture and customs by taking a jeep excursion to Ngadas and Cemorolawang.
Located in the North Sumatra province, Lake Toba was formed by a large volcanic eruption and is now a popular tourist destination. The lake is surrounded by beautiful scenery, including lush rainforests, rolling hills, and dramatic cliffs. Visitors can explore the lake by boat, visit the local villages, and enjoy the stunning views. Lake Toba is home to several traditional Batak tribes. With its stunning scenery and unique local culture, it is no wonder why Lake Toba is one of the most popular tourist destinations in Indonesia.
Things to do: Swim in the volcanically warmed water, enjoy fishing, hiking and camping.
Borobudur Temple is a Mahayana Buddhist temple built in the ninth century in Magelang, Central Java, Indonesia. It is the world's biggest Buddhist temple and one of Indonesia's most popular tourist sites. The temple is a UNESCO World Heritage Site, and the Indonesian government has renovated it multiple times. It comprises six square platforms topped by three circular platforms and is embellished with almost 2,000 relief panels and 504 Buddha images. The temple is also a pilgrimage and reflection site for Buddhists from all around the world.
Things to do: Seek blessings, religious goals, and spiritual guidance.
The Derawan Islands are a group of beautiful and diverse islands located near the east coast of Borneo, Indonesia. The islands are known for their crystal-clear waters, stunning beaches, and abundant marine life. Many Derawan islands are also home to diverse wildlife, such as monitor lizards, macaques, and sea turtles. Visitors can also explore the local villages, learn about the culture, and sample the local cuisine. There are many resorts and guesthouses on the islands, as well as day trips and boat tours.
Things to do: Indulge in water sports, sightseeing, snorkelling, diving, swimming, and kayaking.
Seminyak is one of the most vibrant towns in Indonesia and one of the most gorgeous places to visit. It is one of the tourist destinations in Indonesia that will not disappoint you, whether you want to explore the beautiful green environment or engage in long conversations with locals. If you think about where to go in Indonesia, Seminyak is the place to be.
Things to do: Visit Seminyak beaches, the SuperHero Factory, a prominent winery, and more.
5 Best Places to Stay in Indonesia
Listed below are the recommendations on where to stay in Indonesia.
Lokal Bali Hostel is located in the middle of Kuta, a 10-minute walk from the beach and close to restaurants, food stores, and the airport. The rooms here are contemporary and spotless, with hardwood bunks, new sheets, and privacy curtains. Each bed has its locker, which is stylishly wooden and spacious.
Kashantee Village, a magnificent hotel compound located next to Seminyak's famed Petitenget Street, is just meters from the beach. There are lots of places around to have a meal or a drink. Once you visit this location, you'll probably never want to leave.
Nusa Dua is the heart of luxury in Bali, with the Inaya Putri, a five-star hotel located directly on the beach. The rooms are modest yet comfortable, with luxurious mattresses, a sitting space, and a balcony with views of the garden. You may also get a room with direct access to the premium pool.
If you're searching for a cheap location to stay with many cool vibes, check out Tribal Bali. This hostel is situated in a nook amid the tranquil rice fields near Pererenan beach.
Ulun Ubud Resort is situated in the beautiful Balinese wilderness, with views of the Tjampuhan River and rice terraces. It's located in Sanggingan Village, just a short ride from famed Ubud attractions, including the Monkey Forest and the Bali Swing.
Indonesia is a fascinating and diverse destination that offers a unique travel experience. Whether you're interested in nature, culture, or both, there is something for everyone in this beautiful country.
No matter where you go in Indonesia, you'll be able to experience the country's rich culture and history and its stunning natural beauty. From the vibrant cities to the peaceful countryside, Indonesia is a must-visit destination for any traveller looking for a unique and memorable experience.